Dubai International Airport or a luxury shopping center?
Dubai Airport is an air gate through which travelers get to one of the most luxurious cities in the world. More than 70 million passengers arrived in 2019, so the airport is considered one of the busiest in the world. In addition, it is modern, luxurious and it is often compared to a shopping center. Although it is not such. We will tell you what is remarkable about the airport and how you can pass the time while waiting for a flight.
Dubai Airport has an international IATA code: DXB. It is the main airport of the city, but not the only one. The second is Al-Maktoum, which was built in 2010. Against the background of the main air harbor, it looks like a backwater, there is only one terminal and one runway. In the future, it will become ultra-modern, it will be connected by a metro line to the second airport. Of course, when choosing tickets, it is more convenient to fly to DXB, only if your hotel is not located in the north-western part of the city.
 
Dubai Airport primarily has a convenient location. A large number of transport links with the metropolis. The city center is only 5 kilometers away. When booking a hotel in the city, check whether there is a transfer from the airport, this service is available in all hotels, but it is free, but you do not need to puzzle over whether you will be brought to the right address. In addition, you can order a taxi on arrival, they work around the clock. You can also use public transport. The stations of the Green and Red metro lines are located at terminals 1,2 and 3. Trains depart every 10 minutes, except at night. There are bus stations opposite all terminals. They go to the city center and run near the numerous and large hotels of the city.
If you need to get to Abu Dhabi or Al Ain from the airport, buses operated by Emirates depart from the terminals 3-4 times a day. In addition, you can start an independent trip with a rented car. We recommend using this service in advance to compare prices, book the car you need and not sit in queues at the airport.
There are only three passenger terminals. It is not difficult to move between them, you can walk, take a bus or train. Navigation is simple, just follow the signs and move along the corridors decorated with palm trees. In addition to the passenger ones, there is also a cargo terminal and two VIP ones. In addition, there is a transit zone between Terminal 1 and Terminal 3. This allows passengers to move between terminals, while not passing through the customs control point.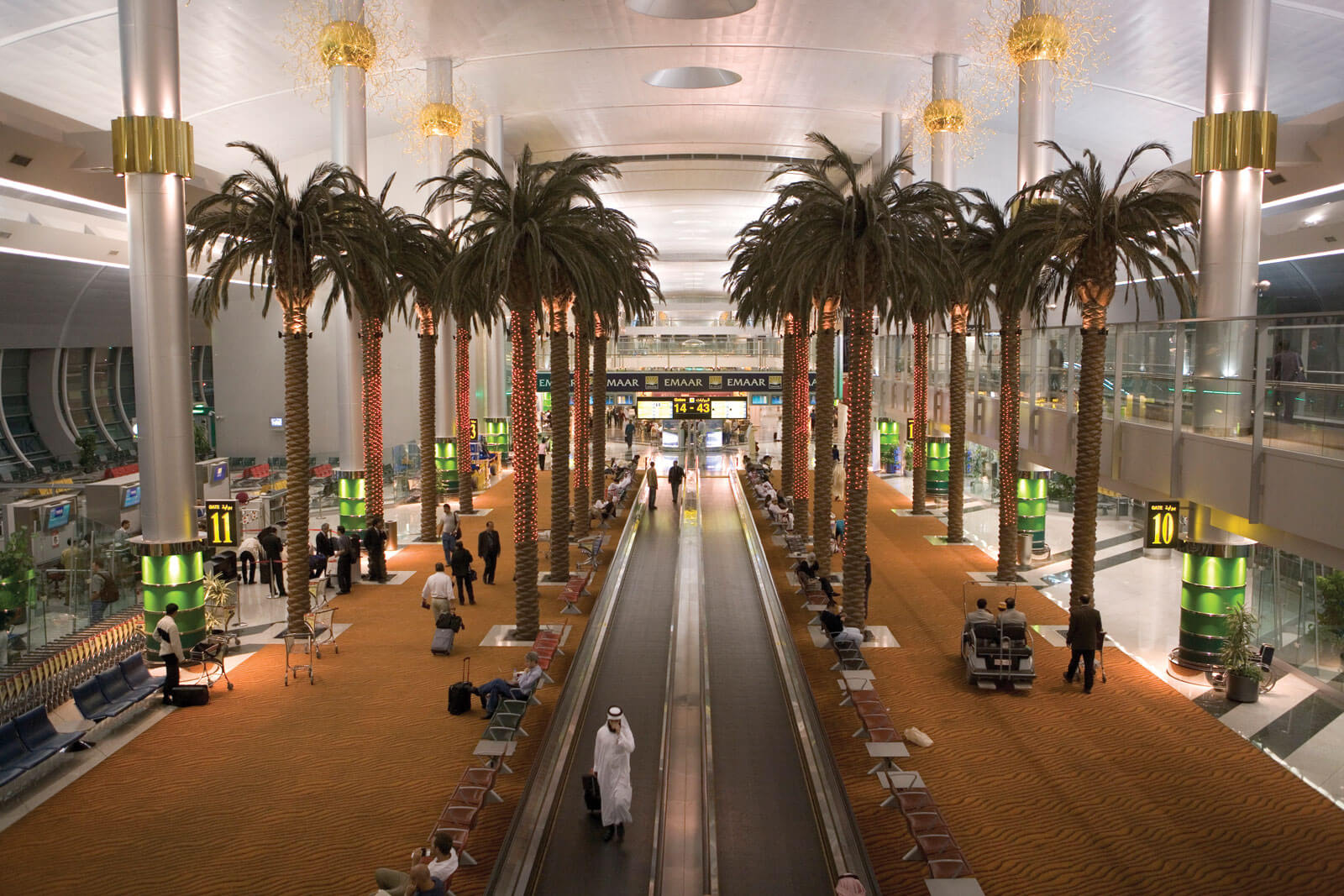 Without a doubt, this is a luxurious and modern airport. Having been here, you will not doubt it for a second. A huge duty-free trade zone, which occupies over 26,000 square meters. A lot of products that can be listed for a very long time. Just a paradise for shopping lovers, so Dubai Airport began to carry the glory of a"shopping center". But it is not such and there are many complexes in the city that will surpass the trade on the territory of aviagavani. But if you didn't have time to go shopping during your vacation, you can catch up before departure.
You can relax from the noise in the shopping area in terminal number 3. There is a Japanese rock garden where you can relax. Fish, greenery, water and peace. For those who want to relax here with children, there is a special children's area where the child can play and watch cartoons. While you are relaxing and enjoying the garden.
Do not be afraid if you need to spend the night at the airport or have a long wait. Right on the territory of the airport there is a five-star hotel where you can not just sleep in a luxury room, but also enjoy a sauna, a swimming pool and local dishes. Or use a more budget option-hourly rental of Snoozecube cabins. A bed, internet, TV and full sound insulation will allow you to pass the wait. This way, you will have a rest and will not be late for your flight, the staff will make sure that you do not oversleep the landing.
Of course, there is also a standard set of services and amenities. Lounges and VIP areas, many cafes and restaurants with cuisine for every taste, prayer rooms, spa centers, swimming pools, gyms, a business center, wi-fi, child care rooms, luggage storage, showers and much more. Also, temporary entertainment or performances for adults and children are often arranged. Therefore, waiting for a flight can be interesting and useful. In addition, you will see luxury in everything here, so it is at least necessary to walk around the terminal. After all, the Dubai airport is also a kind of local attraction.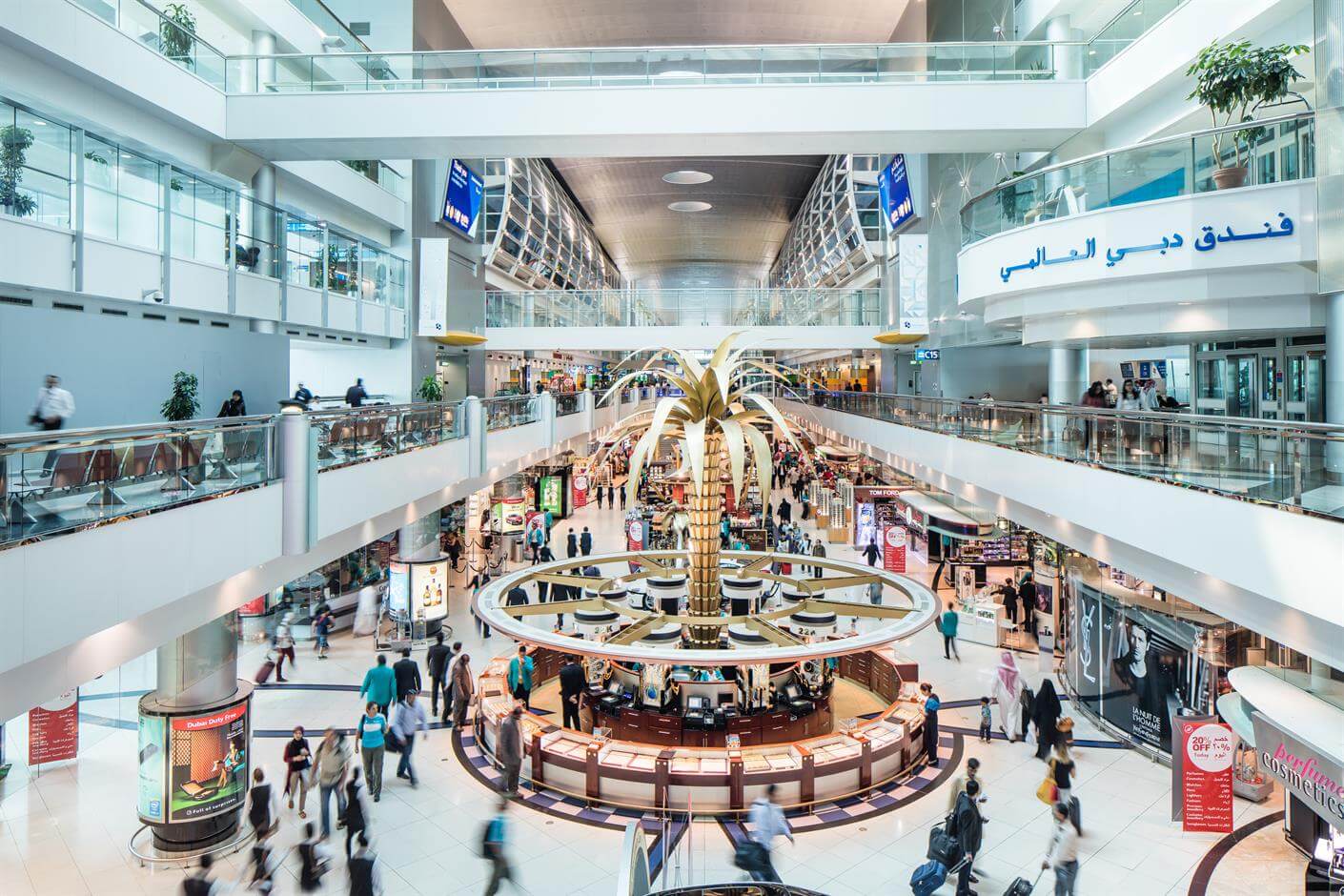 More than 6,500 flights a week from different parts of the world. On our website, you can compare the prices of different airlines, choose convenient dates for travel and buy a ticket at the best price. Plan your vacation in advance.