Fastjet Airline: important features of baggage transportation.
Fastjet is the winner of several awards, including Leading African Low-Cost Carrier, World Travel Awards 2016-2019 and Skytrax World Airline Awards Best Low-Cost Airline in Africa 2017 and 2019. The African airline began flights to Tanzania from November 2012 to December 2018, transporting passengers from its hub in Dar es Salaam to two domestic destinations at once-Kilimanjaro and Mwanza.
In November 2017, Fastjet launched branded domestic flights to Mozambique (operated by Solenta Aviation Mozambique) between Maputo and Beira, Nampula and Tete. These services were suspended in October 2019 due to a decrease in demand for local travelers ' trips.
On November 3, 2019, Fastjet celebrated its fourth successful year of operation in Zimbabwe. The carrier continues to operate daily return flights between Harare and Bulawayo, Harare and Victoria Falls, as well as international flights from Harare and Bulawayo to Johannesburg in South Africa, which remains a popular destination for the airline's customers.
The airline strives to be respected locally and recognized worldwide. Partnering with internationally recognized international airlines, Fastjet has expanded its flights beyond Zimbabwe with one-way interline ticket agreements via Johannesburg (South Africa).
The airline has transported more than 3.5 million domestic and international passengers with an impressive aggregate timely performance, having established itself as a punctual, reliable and affordable airline offering inclusive and free services to all customers.
We will analyze in more detail what and how passengers can be transported on board the aircraft.
Each passenger can carry one item of hand luggage in the cabin. Its weight should not exceed more than 7 kilograms, and the maximum dimensions are 55 X 35 x 20 cm.
In addition, you can take a small purse or a thin laptop on board, if it does not exceed the size of 40 x 30 x 15 cm. On board, it should be placed under the seat directly in front of you or in the upper locker. If it exceeds the above dimensions, it will be registered and paid for as additional checked baggage.
Guests can bring smart bags on board all Fastjet flights if the lithium battery is disconnected and placed in the bag, and the bag adheres to the size and weight restrictions mentioned above.
If you cannot remove the battery from the bag, then for safety reasons it will not be accepted for transportation, since lithium batteries pose a possible fire hazard. This is in accordance with the IATA rules. If your handheld smart bag is marked Drop & Fly, then the battery must be removed and transferred to the cabin before your bag is placed in the cargo compartment.
For safety reasons, the company does not transport live animals, including domestic animals, insects, reptiles or any other form of livestock on any aircraft. However, the transportation of guide dogs is allowed.
In addition, it is possible to take the ashes of a pet into the cabin of the aircraft, for this you need prior permission from Fastjet. Ashes can be transported in hand luggage, provided that the following requirements are met:
You have a copy of the death certificate and a copy of the cremation certificate.
The ashes are securely packed/sealed in the appropriate container.
Upon arrival at the airport gate, you inform the Security staff that you are carrying ashes.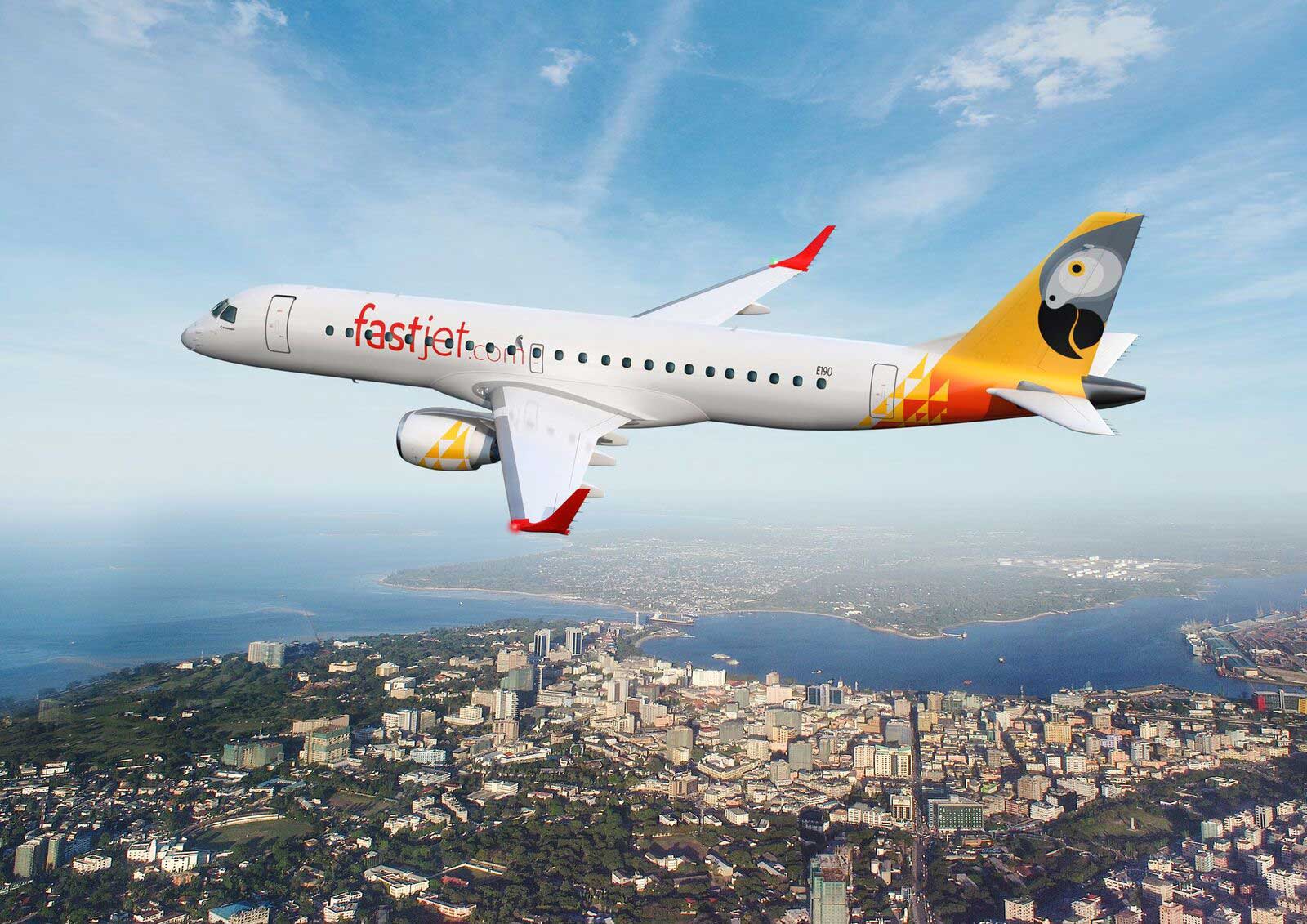 Fastjet Baggage allowance:
Checked baggage is limited to 23 kg per seat.
If your bag exceeds 23 kg, you will be charged an additional fee for each additional kg up to the maximum permissible weight of 32 kg per bag.
For safety reasons, no one individual item can exceed 32 kg or a combined size of 81 x 119 x 119 cm.
Each passenger, regardless of the fare, can purchase one additional piece of checked baggage (23 kg).
It is recommended to book additional checked baggage online in advance to save money. In addition, additional baggage can be added at the airport for a higher fee.
Checked baggage may include, but is not limited to, a suitcase, sports equipment or musical instruments, backpacks or tents. These items can be replaced by the permitted baggage allowance applicable to this type of fare.
Sports equipment and musical instruments are transported in the hold of the aircraft. These items can be replaced by the baggage allowance allocated to you or added as additional Checked Baggage. The products can not exceed 23 kg and have a total size of 81 x 119 x 119 cm.
Sports equipment includes bicycles, golf bags, surfboards, wind and kitesurfing equipment, fishing rods, etc. Bicycles must be packed in a bicycle box. Bicycles without the appropriate packaging are not accepted.
Musical instruments should be packed in a hard carrying case. Tools without an appropriate hard case are not accepted.
If the item exceeds the checked baggage allowance of 23 kg and the total size is 81 x 119 x 119 cm, find out in advance at the call center whether such baggage will be confirmed to you or not.
Adults with infants can also take a small bag containing items for immediate use.
Traveling with strollers or wheelchairs.
You can take one baby stroller or carrier with you for each baby or child. He flies for free.
You can also take up to two mobile devices with you for free. These include walking sticks, folding wheelchairs, electric vehicles, medical scooters, etc.
At the airport
All bags will be weighed at the airport, and any extra weight over 23 kg and extra dimensions will be charged per piece.
No refund or partial payment is made if your bag weighs less than the allocated weight per piece.
The cost of checked baggage varies depending on whether it was added in advance or at the airport.
Road systems (baby strollers/strollers) must be marked at check-in. It will be accepted before landing to be safely placed in the hold, or it can be registered at the check-in desk.